Meet The Pastor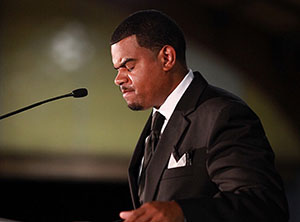 Colby A. Matlock, Sr. is the Pastor of the Mount Olivet Seventh-day Adventist Church. He earned his Bachelor of Arts in Theology from Oakwood University and his Master of Divinity from Andrews University. He is currently a candidate for the Doctor of Ministry degree in Urban Ministry at Andrews University.
Pastor Matlock is committed to winning souls for Christ, preaching the Word of God, and teaching bible-based strategies for living an abundant life. He brings a wealth of pastoral experience in ministry, pastoral care, counseling, and community outreach.
Pastor Matlock is happily married. He and his wife, Erica, are the proud parents of two boys, Colby and Judah. They believe that strong families are the building blocks of the church and the community.