Chapter Chattin' Book Club

Welcome to Chapter Chattin' Book Club. Chapter Chattin' Book Club is an interactive, uplifting reading club bringing women that are passionate readers together to discuss inspiring stories that encouraged and strengthen their faith in an awesome, loving and forgiving God.
---
The current book for the Chapter Chattin' Book Club is entitled Unglued: Making Wise Choices in the Midst of Raw Emotions by Lysa TerKeurst.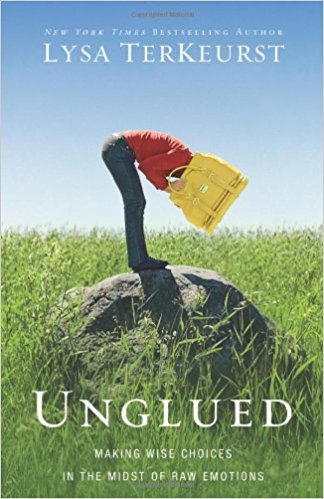 From Amazon.com
God gave us emotions to experience life, not destroy it! Lysa TerKeurst admits that she, like most women, has had experiences where others bump into her happy and she comes emotionally unglued. We stuff, we explode, or we react somewhere in between. What do we do with these raw emotions? Is it really possible to make emotions work for us instead of against us? Yes, and in her usual inspiring and practical way, Lysa will show you how. Filled with gut-honest personal examples and biblical teaching, Unglued will equip you to: Know with confidence how to resolve conflict in your important relationships. Find peace in your most difficult relationships as you learn to be honest but kind when offended. Identify what type of reactor you are and how to significantly improve your communication. Respond with no regrets by managing your tendencies to stuff, explode, or react somewhere in between. Gain a deep sense of calm by responding to situations out of your control without acting out of control.
---
Previous Books
I'm Happy For You (Sort Of...Not Really): Finding Contentment in a Culture of Comparison
by Mike Nappa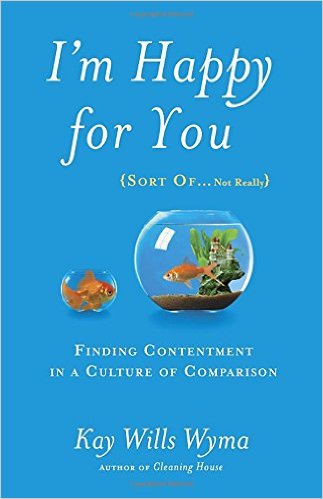 Do you find yourself measuring your value against your friend's house, body, marriage, resume, paycheck, organic garden, or Pinterest-worthy holiday décor, and coming up lacking? Do your college roommate's Instagram snapshots bear little resemblance to the scene at your house this morning? Excessive comparison and competition sap our energy and steal our joy. Our friends become our audience and judges, and our kids become part of our brand. Add social media's constant invitation to post and peruse, and it's no wonder that we're left exhausted, discontent, and lonely. Thankfully, there is another way! With refreshing candor and humor, Kay Wyma shares her experiences with comparison living and offers readers the simple remedies that helped her and her family reboot their perspective and discover freedom, authenticity, and joy.
---
Who Moved My Church?
by Kay Wills Wyma.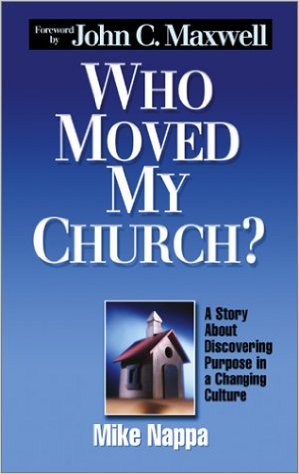 How would people respond if they showed up at church one Sunday morning only to discover someone or something had actually, physically moved it? Undoubtedly, they would go out and find it! And that's what four unforgettable characters from Who Moved My Church? set out to do! But how they go about locating it and then how they respond—and what they do—once they find it is so different, you'd never guess they attend the same church. Ultimately, Nappa's parable will spur church attendees to tackle one of the enduring questions of Christian history: How is the Church to interact with culture? The question is all the more pressing for pastors and laity in light of dramatic and rapid changes taking place in society on what feels like a daily basis. Humorous, entertaining, and thought provoking, Who Moved My Church? will be the center of discussion in homes, small groups, Sunday-school classes and churches everywhere.
---
Our Iceberg is Melting
by John Kotter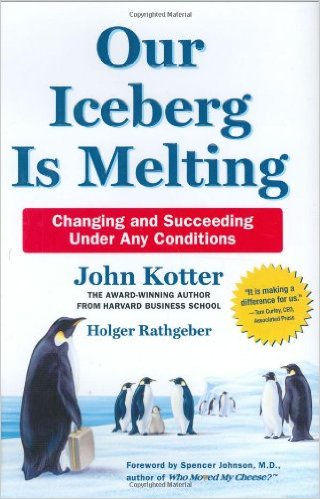 From Amazon.com
Most of the denizens of the Antarctic penguin colony sneer at Fred, the quiet but observant scout who detects worrying signs that their home, an iceberg, is melting. Fred must cleverly convince and enlist key players, such as Louis, the head penguin; Alice, the number two bird; the intractable NoNo the weather expert; and a passle of school-age penguins if he is to save the colony. Their delightfully told journey illuminates in an unforgettable way how to manage the necessary change that surrounds us all. Simple explanatory material following the fable enhances the lasting value of these lessons. Our Iceberg Is Melting is at once charming, accessible and profound; a treat for virtually any reader.
---
The Best Yes
by Lysa TurKeurst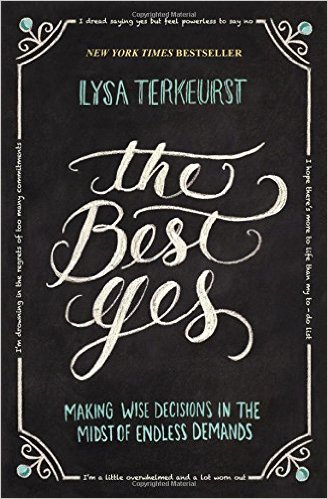 Are you living with the stress of an overwhelmed schedule and aching with the sadness of an underwhelmed soul? Lysa TerKeurst is learning that there is a big difference between saying yes to everyone and saying yes to God. In The Best Yes, she will help you: Cure the disease to please with a biblical understanding of the command to love. Escape the guilt of disappointing others by learning the secret of the small no. Overcome the agony of hard choices by embracing a wisdom based decision-making process. Rise above the rush of endless demands and discover your best yes today.
---
Bridge to Haven
by Francine Rivers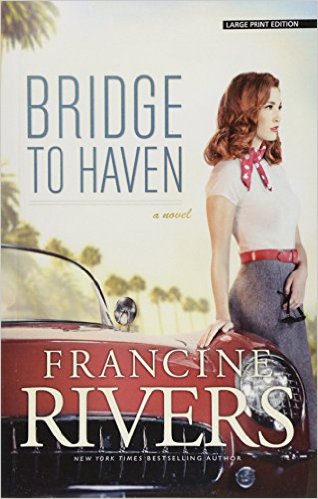 To those who matter in 1950s Hollywood, Lena Scott is the hottest rising star to hit the silver screen since Marilyn Monroe. Few know her real name is Abra. Even fewer know the price she's paid to finally feel like she's somebody.To Pastor Ezekiel Freeman, Abra will always be the little girl who stole his heart the night he found her, a wailing newborn abandoned under a bridge on the outskirts of Haven. Zeke and his son, Joshua--Abra's closest friend--watch her grow into an exotic beauty. But Zeke knows the circumstances surrounding her birth have etched scars deep in her heart, scars that leave her vulnerable to a fast-talking charmer who lures her to Tinseltown. Hollywood feels like a million miles from Haven, and naive Abra quickly learns what's expected of an ambitious girl with stars in her eyes. But fame comes at a devastating price. She has burned every bridge to get exactly what she thought she wanted. Now all she wants is a way back home.In this riveting and highly anticipated tale of temptation, grace, and unconditional love, "New York Times" bestselling author Francine Rivers delivers big-canvas storytelling at its very best.
---
Born Yesterday by Rachel Williams-Smith
The book is a memoir of growing up in physical and social isolation stemming from a one-family, cult-like version of extreme religion, yet shaking free from family dysfunction and spiritual abuse to develop a wholesome life grounded in faith.

Though born in 1965, Rachel's story could easily have been set in the 1800s. Wearing long dresses and broad-brimmed bonnets and living without modern conveniences including electricity, telephone, radio, television, or indoor plumbing, she and her two older brothers were shaped by the extreme religious views of her iron-willed, Vietnam-veteran father and malleable, practical-minded mother. The family separated from society and lived under often harsh conditions in an old, abandoned house atop a remote range of hills in Tennessee, awaiting the end of the world. Then at 16, Rachel was forced to face the world in which she was not raised to live. She struggled to adjust to an unsheltered life without casting aside the good along with the bad. Eventually she found her way to a full, balanced, and vibrant life. Rachel shares an amazing story that ultimately testifies of God's faithful and restorative loving care.
---
Slightly Bad Girls of the Bible by Liz Curtis Higgs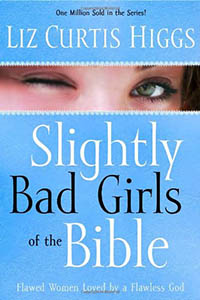 A spiteful boss, a defiant employee, a manipulative mother, a desperate housewife, an envious sister…honey, we know these women. We've lived with them, worked with them, or caught a glimpse of them in our mirrors.

Now let's take a look at their ancient counterparts in Scripture: Sarah mistreated her maidservant, Hagar despised her mistress, Rebekah manipulated her son, Leah claimed her sister's husband, and Rachel envied her fertile sister.

They were far from evil, but hardly perfect. Mostly good, yet slightly bad. In other words, these matriarchal mamas look a lot like us.
---
Broken into Beautiful: How God Restores the Wounded Heart by Gwen Smith
From Amazon.com: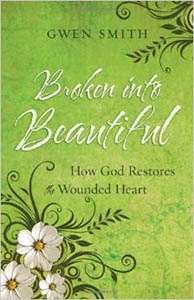 God delights in transforming lives. In Broken Into Beautiful, singer and songwriter Gwen Smith's first book, she tells the real-life stories of women with shattered dreams, shameful secrets, and damaged souls, and the God who makes them beautiful again. Each chapter features a compelling personal story coupled with relevant biblical teaching and application. Readers will meet women wounded by infidelity, abortion, widowhood, abuse, and other tragic events, only to discover the joy of being restored by a loving heavenly Father.
The book will remind women of all ages of God's willingness to eternally forgive and forget and of His heart to transform broken lives. Readers will be empowered to believe truth, to remember grace, and to live for God's greater purposes. Broken into Beautiful is ultimately about a beautiful Savior who became broken for us so that all who are broken can be transformed to reflect His beauty.